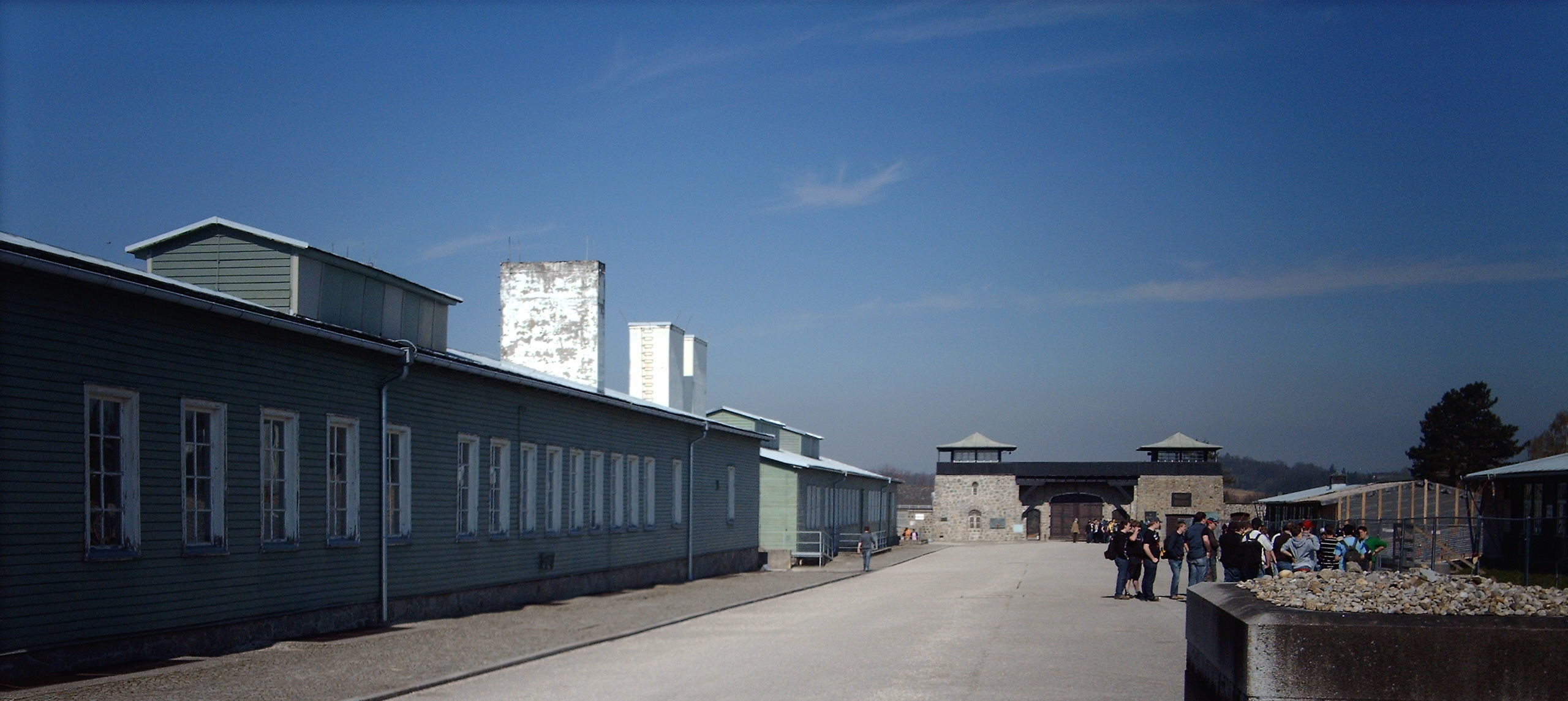 Camp Road towards Main Entrance and Prisoners' Barracks
Mauthausen
2008 – 2010
As contribution to the restoration of the memorial site, the Bildungsverein Bautechnik organised work stays for trainees in Mauthausen from 2008 onwards. This was made possible with the support of the Austrian Federal Ministry of the Interior, the German War Graves Commission and the Knobelsdorff School in Berlin.
The Mauthausen concentration camp was the largest Nazi concentration camp in Austria during the Second World War. The projects in Mauthausen confronted all trainees with new challenges. In addition to the high psychological stress in view of the daily confrontation with the Holocaust, the trainees also coped with new professional and practical demands. In conversations with international visitors, English skills were tested and improved; through group work, the trainees practised teamwork and independence. In addition, their views on Europe opened up. For many apprentices, the practical experience they gained was decisive for shaping their further career and increased their willingness to be mobile.
After successful participation in the project, all apprentices received the Europass Mobility. This documents the experience gained in Austria and thus facilitates access to other professional activities in other European countries.
Awards
"Good Practice" – Project 2009 of the Federal Institute for Vocational Education and Training
Overview of the work done
In 2008, 29 apprentices in the trades of carpentry, joinery, building construction and special civil engineering in the second and third year of their apprenticeship as well as seven accompanying master craftsmen and specialist teachers worked in Mauthausen. Before the project began, the apprentices were sensitised to the place and its past in a course lasting several days. The project not only gave the apprentices the opportunity to gain new professional experience, but also to support the maintenance of the historically significant memorial site.
Trainees in the carpentry and joinery trades repaired the entrance doors and windows of the houses formerly used as kitchens, laundries and the watchtower. The road builder and special civil engineering apprentices renewed the path to the French monument.
In the following year, apprentices in the carpentry, joinery, building construction and civil engineering trades as well as future housekeepers and gardeners and landscapers worked on the project. Among other things, the young people from Berlin and Brandenburg worked in small groups to renovate 12 windows in the northern watchtower and laid floorboards in a former concentration camp barrack.
In the third run in 2010, the trainees repaired historic windows, laid paving slabs, paved a natural stone path and erected a roof structure to protect the ruins from the weather.
Cultural activities
Outside working hours, there was a wide range of cultural activities to choose from. In addition to the opportunity to attend readings and film screenings at the memorial, day trips to Vienna and Linz were organised and interesting construction companies such as prefabricated house, timber and concrete factories were visited.